Did you grow up drinking ginger ale when you were sick?
When I was growing up, drinking Canada Dry Ginger Ale was a staple in our family when we were sick.
Turns out it was pretty much a placebo effect. 🙁
Last year, someone sued Canada Dry for negligible and false promotion as part of a marketing scheme to make Canada Dry seem like a healthy alternative to regular pop.
How much ginger is in Canada dry?
Turns out it only contains a microscopic amount of real ginger in it. Canada Dry's listed ingredients are carbonated water, high fructose corn syrup, citric acid, sodium benzoate, natural flavors and caramel colors. It also boasts a sugar content of 35 grams!
They don't even list the word ginger on their ingredients list.
This week I am happy to announce that Happy Gut Ginger Ale is the real deal! When you purchase a Happy Gut D.I.Y. Kit you automatically receive a package of REAL Organic Matters candied ginger in your box to get you started in your brewing journey.
With only 3 ingredients: organic sugar, water and ginger and only 5 grams of sugar in the final product plus over 30 billion LIVE probiotics, enzymes, electrolytes, B vitamins, magnesium, folate and vitamin K, your body will definitely #smile on the inside.
Ginger is amazing for flus and colds with its ability to treat nausea and vomiting and it's zesty peppery flavor to help relieve cough and congestion.
I love to eat the fermented ginger after I finish my soda because not only is it tasty but I love the addition of LIVE probiotics to boost my gut health.
Not a big fan of ginger but you know it significantly helps for gut issues? Don't use so much in your ferment. Only use a couple of slivers. A little is better than none.
People who aren't big ginger fans are very pleasantly surprised when they try my bottled Apple Ginger water kefir soda. The ginger isn't super strong.
I personally love the burn of ginger and load my personal ferments up with fresh spicy chunks!
REAL GINGER ALE
WATER KEFIR SODA RECIPE
(preservative and caramel color free 😉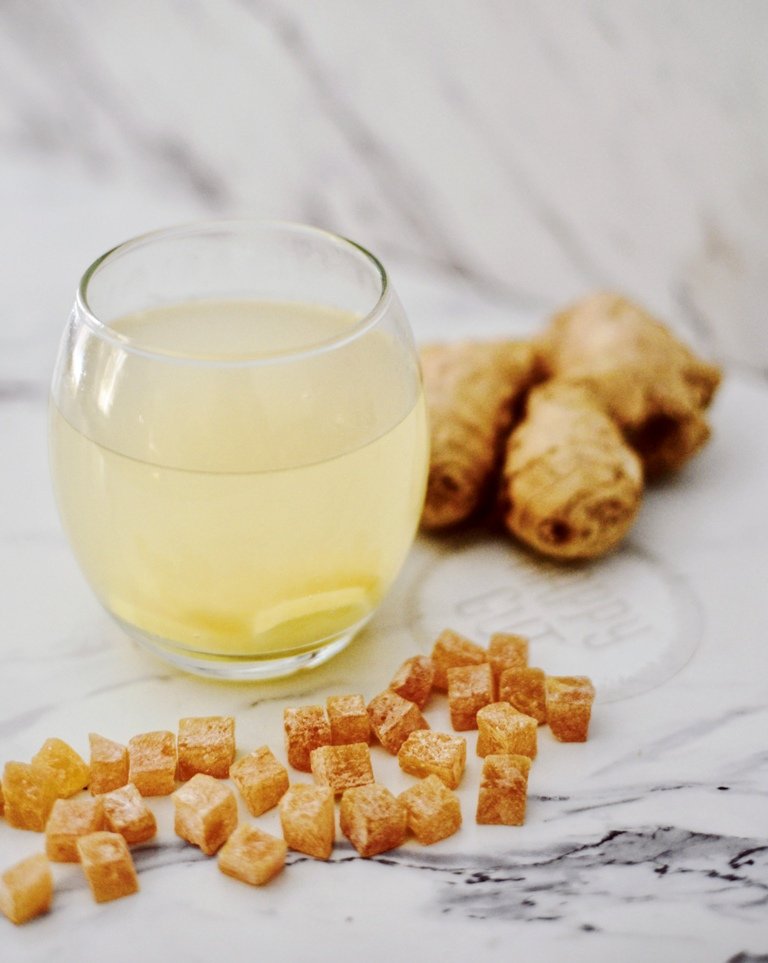 Make the first ferment and leave the jar in a warm place for 24-48 hours.
Strain the grains and add the following to your second ferment. 3
5-10 pieces candied ginger or 3 slivers fresh ginger or 1 drop of ginger food grade essential oil

Seal up the green swivel top bottle and leave it in a warm place for 24 hours for the second ferment.
Open slowly, strain and enjoy!
Refrigerate immediately and it can last there for up to 6 weeks.
This refreshing soda will give your immune system a boost of over 30 billion LIVE probiotics, magnesium, B vitamins, folate, vitamin K, electrolytes and enzymes.
We now ship to the US!
Happy Gut is sold in over 75 retail locations across BC and Alberta as well as on AMAZON.ca
We love our Happy Gut family and that includes you!
Do you have an excess of water kefir grains? We purchase them back.
Reach out to us at hello@happygutpro.com
Follow us on
Listen to a Podcast about the inception of Happy Gut here.
And as always, if you know someone who could benefit from this Blog post, we would so appreciate it if you would share it with them.
This Blog is written in Canada with Love and good intentions,
Leeza Zurwick
p.s. stay tuned next week when I share a Pretty In Pink ombre drink for helping relieve cold and flu symptoms.
Leeza Zurwick is the Founder of Happy Gut and has a deep passion for living off the earth and using fermented food as medicine. After being gifted some water kefir grains, she found it difficult to find consistent information on how to brew water kefir and she found it challenging to source the right brewing supplies. Through extensive research, trial and error, Leeza developed simple recipes and systems to ensure success and delicious results. After drinking water kefir daily, she noticed a significant reduction in bloating, clearer skin and her immune system was strengthened enough to not get sick, despite working in classrooms full of germy kids! Leeza launched Happy Gut in 2017 and made it her mission to share the age old wisdom, simplicity and incredible health benefits of live, probiotic rich, fermented Water Kefir.