This overnight oats recipe will warm your tummy with hints of vanilla and chai spice, cardamom and ginger.
VANILLA CHAI COCONUT CREAM OVERNIGHT OATS
MAKES: one serving
INGREDIENTS:
1/2 cup almond or coconut milk
2 tsp. chia seeds
2 tsp. hemp seeds
1 tbsp vanilla (more or less to your taste)
1/2 cup large flake rolled oats (gluten free if possible)
1/2 cup fermented coconut cream yogurt
Berries of your choice
CHAI SPICE BLEND RECIPE
1/4 tsp ground cardamom
1/8 tsp ground allspice
1/8 tsp ground nutmeg
1/2 tsp ground cinnamon
1/8 tsp ground cloves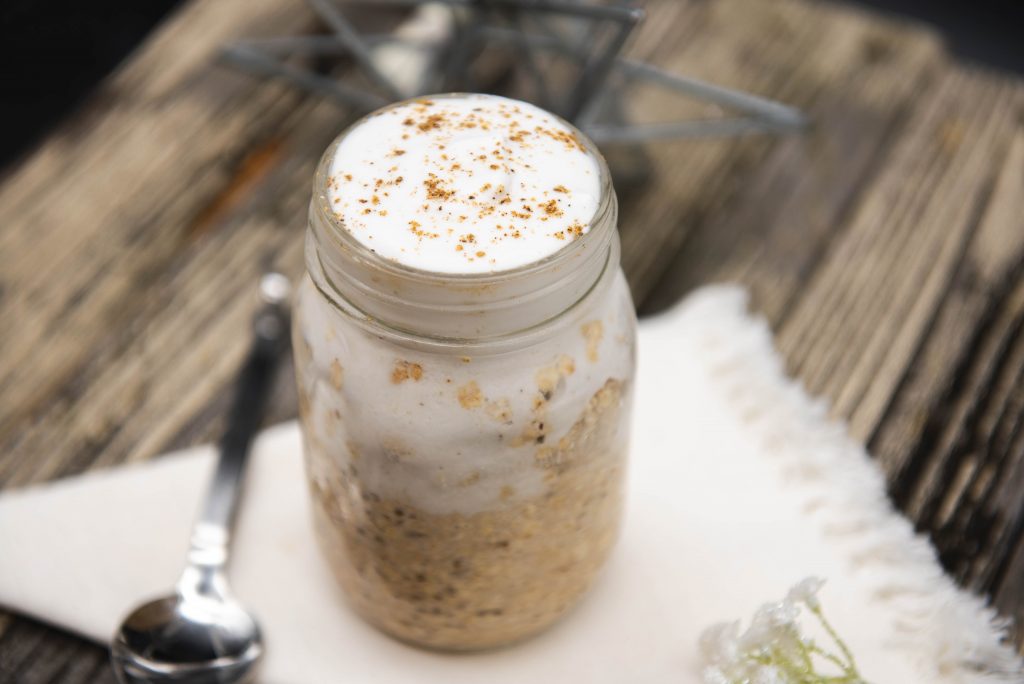 INSTRUCTIONS
Mix milk, chia seeds, hemp seeds, maple syrup and chai spice blend together in a jar with lid.
Add rolled oats and stir.
Spoon coconut cream yogurt on top.
Close lid and place in fridge.
The oats will absorb the liquids and be ready in 6 – 8 hours.
Add berries of your choice and enjoy!
NEED TO KNOW:
Fresh or frozen berries can be used.
We like to make this in the evening for breakfast the next morning, especially on days when breakfast may be on the run.
You can also ferment your nut milk prior to adding it to your oats.
Use large flake oatmeal if possible. Instant oatmeal is okay, but it becomes quite mushy.
Will be good in the fridge for 2 -3 days.
The chia seeds and hemp seeds add extra nutrition to an already healthy fibre-filled oatmeal breakfast. You can make this recipe successfully without these ingredients or add your own favorites such as walnuts, ground flax seeds, etc.